Private Investigative Services for
Business / HR / Banks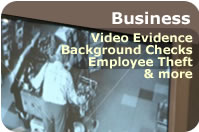 Investigation Services
Locating Heirs for Bank Trust Departments
Background Checks
Human Resources Assistance
Sexual Harassment Claims
Workplace Violence
Locating Heirs
Do you need to find heirs for wills & trusts? Mark Foster has successfully located known and unknown heirs to assist banks in properly executing wills and trusts.
Surveillance
Mark Foster has logged thousands of hours in the field performing surveillance for small businesses and large corporations.
Want Video Evidence? This is Mark's specialty. Your business will value the video evidence Mark can provide.
Free Phone Consultation
Every case is different. You'll get a customized investigation to meet your needs. For professional service and a free initial phone consultation or to schedule an investigation or process service, contact Mark Foster today